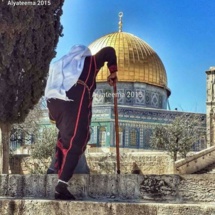 "We warned the American side that if the American government does in fact carry out that statement to recognize a unified Jerusalem as the capital of Israel and transfers the American embassy to Jerusalem, this is a step that will end any chance of a peace process," Naabil Shaath, a senior advisor to Palestinian Authority (PA) President Mahmoud Abbas told the dpa on Sunday.
Abbas has launched a diplomatic effort speaking with Arab and international leaders seeking to put a stop to Trump's reported plan, Shaath said.
A move to recognize Jerusalem as Israel's capital would upend decades of US policy in the Israeli-Palestinian conflict.
US presidents have refrained recognizing Jerusalem as Israel's capital, saying that such a move would endanger the peace process.
Israel considers Jerusalem to be its unified capital and has long urged the US to move its embassy from Tel Aviv to the ancient city. However, the PA government says East Jerusalem will be the capital of a future Palestinian state.
Israel captured the eastern half of Jerusalem in the 1967 Middle East War and annexed the territory in a move that was not internationally recognized.