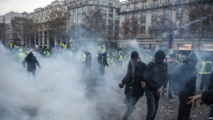 Interior Minister Christophe Castaner has warned that up to 2,000 "radical activists" may try to "sow violence and disorder" and may join up with "radicalized" protesters from the Yellow Vests movement.
Businesses along the route of the main trade union march on the city's Left Bank have been ordered to close for the afternoon.
May Day last year saw clashes between up to 1,200 masked protesters and riot police.
Clashes have also become a regular feature of weekly Yellow Vests protests in Paris and other cities, and the largely leaderless movement is expected to take to the streets again on May Day too.
Castaner said there was also a risk that "radical elements" could try to infiltrate trade union marches in other cities, even though the unions themselves were committed to avoiding any violence.
Some 7,400 police and gendarmes would be deployed in the capital, with orders to react quickly and arrest any troublemakers immediately, Castaner said.