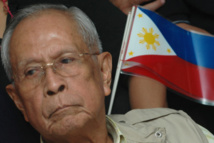 Ghazali Jaafar, a vice president of the Moro Islamic Liberation Front (MILF), was hailed as a "warrior of peace" for heading the rebel group's negotiating panel in the peace talks. He was 75.
"Mr Jaafar was a warrior of peace," said presidential spokesman Salvador Panelo. "He has fought many battles for peace and may Allah grant him a place in Jannah (paradise)."
"Jaafar had been instrumental to the quest for peace in Mindanao as (the military's) dependable partner in that elusive aspiration," added Brigadier General Edargd Arevalo, a military spokesman.
"His insights and dedication as a person as a peace advocate will be his enduring legacy – not only to the Bangsamoro people but to the entire nation as well," Arevalo said.
Jaafar was the chairman of the MILF peace negotiating panel when the group signed the peace agreement with the government in 2014.
Last month, he was appointed to be head of a transition commission that would oversee the establishment of a new Muslim autonomous entity in the conflict-wracked southern region of Mindanao.
He died after three days of confinement in hospital in southern Davao City due to health problems, said Raby Angkal, Jaafar's aide.
The MILF has been fighting for an independent Islamic state in Mindanao since the late 1970s, but signed a peace agreement with the Philippine government in 2014 after decades of conflict which has left thousands dead.