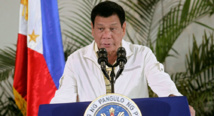 "There is an urgency to conduct a preliminary examination on the allegations," said senator Antonio Trillane, adding he wanted to "prevent further commission of crimes against humanity".
One of Duterte's fiercest critics, Trillanes travelled to The Hague to present new information to the tribunal as opposition politicians press for the court's prosecutor to open a probe into alleged crimes against humanity in the Philippines.
Accompanied by opposition MP Gary Alejano, Trillanes handed over a 45-page document to complement a first dossier deposed by Philippine lawyer Jude Sabio in April accusing Duterte of "mass murder".
"We are crying out for help. We try stopping the impunity of Duterte," Trillanes told AFP after handing over the new dossier.
It "included cases that happened after" Sabio's 75-page filing in which he accused Duterte of causing some 8,000 deaths through "repeated, unchanging and continuous mass murder".
Trillanes said he wanted to show that since then "the killings didn't stop at all, that killings continue."
Duterte won election by a landslide in May 2016 largely on his promise to launch a war on illegal drugs.
Although the campaign has proved popular at home, the Philippine president has faced international criticism for the thousands of alleged extrajudicial killings.
Last month, he declared military rule in the southern Mindanao region, home to some 20 million people, to quell what he said was a fast-growing threat from the Islamic State (IS) group there.
"The threat of the expansion of the martial law is very real," said Trillanes.
"Duterte has been using all sorts of pretexts to employ draconian measures in the country and control Philippine society. And we are not going to allow that," he said.
Trillanes voiced fears his country may be moving towards a dictatorship, saying: "When he (Duterte) was mayor of Davao city, he looked like a dictator, a tyrant for more than 20 years. And that is the only kind of governance that he knows."
The ICC's chief prosecutor Fatou Bensouda said in October she was "deeply concerned" by the reports of the killings.
Since beginning work in 2002, the prosecutor's office has received some 10,000 requests from individuals, groups or countries to investigate alleged crimes around the world.
Once a dossier is deposed, it is then up to the prosecutor to decide if there is enough cause to open a preliminary inquiry into whether a full-blown investigation is merited. There are currently 10 preliminary examinations, and 10 full investigations under way.