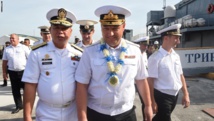 The police officers were aboard two patrol cars when an undetermined number of guerrillas opened fire at them in a village 200 kilometres south of Manila.
The officers were returning to the provincial police headquarters in the nearby town of Daet when the ambush occurred, a regional police spokeswoman said.
The attack was the latest hostility between government security forces and communist rebels since President Rodrigo Duterte officially terminated peace talks with the rebel Communist Party of the Philippines (CPP) on November 23.
Duterte also said his office was preparing an executive order that would formally categorize the CPP and its armed wing, the New People's Army (NPA), as terrorists.
Earlier in the week, government forces killed 15 suspected communist rebels in clashes in the province of Batangas, 65 kilometres south of Manila.
Communist guerrillas have been fighting the Philippine government since the late 1960s, making the movement one of the longest-running leftist insurgencies in Asia.