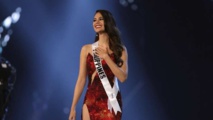 She said she learned to be grateful and "look for the beauty in it" while teaching underprivileged children in slums in Manila when asked by host Steve Harvey about the most important lesson in her life.
Gray told a press conference she wanted to visit Europe because she has never been there before.
"I would definitely like to expand the platform that I already have in regards to education," said the social media favourite.
She added that she was passionate about working with HIV-AIDS organizations as she lost a friend to a health complication from HIV a few years ago.
South Africa's Tamaryn Green, 24, was named first runner-up, while Venezuela's Sthefany Gutierrez, 19, was named second runner-up.
Miss Laos, On-anong Homsombath, won best national costume for her elaborate interpretation of Kinnaree - a mythical half-bird, half-woman creature.
Before the winners were announced, the top 10 contestants from South Africa, Vietnam, Venezuela, the Philippines, Costa Rica, Curacao, Nepal, Canada, Thailand and Puerto Rico took to the the stage in swimsuits designed by Thai Princess Sirivannavari Nariratana and nightgowns.
Being held for the 67th year, the competition took place in Bangkok for the third time. The Thai capital last hosted the pageant in 2005 when Russian-born Canadian Natalie Glebova won the title.
This year's pageant saw the first ever transgender contestant, Miss Spain.
Angela Ponce, 27, was born anatomically male but has since transitioned to being female. She has said she would use the title to campaign for children who question their gender identity.
Although Ponce was eliminated in the semi-final round, she was welcomed back on the stage with applause and loud cheers.
The contest has been open to transgender women for several years now, after Miss Canada was blocked in 2012 because she was not born female.
It was also the first time all the seven members of the Miss Universe selection committee were women.
Gray's victory came three years after her fellow Filipino beauty queen Pia Alonzo Wurtzbach was crowned Miss Universe 2015.