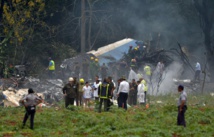 .
Pilot Marco Aurelio Hernandez told the Mexican newspapers El Universal and Milenio that he had observed over-heated engines, excessive weight on flights, overworked pilots, corrosion in aircraft wings, lack of spare parts and radar failures while working for Damojh between 2005 and 2013.
Hernandez, who flew the crash plane several times, said he had denounced the airline to the authorities and that bribes had probably been paid to allow it to continue operating.
The Mexican aviation authorities said Damojh would be subjected to new checks to see if it was fit to operate. It had last undergone checks in November.
Cuban Transport Minister Adel Yzquierdo said Damojh had all the documentation necessary for it to operate in Cuba. He said Boeing representatives would travel to the island to help investigate the causes of tha accident.
The twin-engined aircraft, which was en route from Havana to the eastern city of Holguin, crashed shortly after take-off. Investigators have found one of the two black boxes which holds key data on the last minutes of the flight.
The plane had been hired to cover the route by Cuba's national airline Cubana de Aviacion.
According to the website Planespotters.net, the aircraft was almost 39 years old and had belonged to several different airlines. It had been owned by Damojh since 2017.