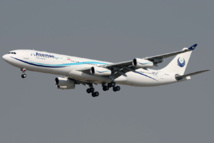 A spokesman for Iran Aseman Airlines said that it is assumed all 66 people died when its twin-engine turbo prop ATR 72 plane crashed into Dena mountain near the central city of Semirom on Sunday.
It was not immediately clear what caused the crash.
Hours after it went down, rescue services from the Red Crescent aid group had been unable to find any wreckage from the plane or bodies of the victims. The search was halted at nightfall and would resume early Monday, Iran's Isna news agency reported.
The aeroplane went off the radar 50 minutes after taking off from the Iranian capital.
Residents in the village of Bideh, not far from Dena mountain, reported hearing a loud explosion.
In comments to state broadcaster IRIB, a Red Crescent spokesman said there had been a heavy snowstorm in the area and that rescuers have not yet been able to access the site of the crash.
A spokesman for the Civil Aviation Organization would not comment on the crash, pending analysis of the plane's black box, which has not yet been found.
A spokesman for the government body told IRIB that the aircraft dated back to 1993 but insisted that it had been modernized repeatedly since then.
Iran Aseman Airlines is on the European Commission's black list of unsafe airlines.
Meanwhile, dramatic scenes developed at the capital's Mehrabad airport, where families gathered to await news of their loved ones. There was anger at authorities for allowing such an old plane to remain in operation. Some reportedly shouted slogans against the Iranian regime.
Iran already has a poor reputation for civil aviation safety.
The last plane crash to occur in Iran was in August 2014 when a small Antonov 140 passenger plane belonging to Sepahan Airlines crashed shortly after take-off at Mehrabad domestic airport. Thirty-seven people died in the crash and 11 were injured.
In January 2011, 77 people died when a plane broke up as it made an emergency landing during a snow storm in north-western Iran. In May 2010 a passenger plane with 168 people on board crashed.
Many passenger planes belonging to Iran's smaller airlines are more than 40 years old as sanctions imposed on the country because of its controversial nuclear programme meant that no new planes could be purchased.
Only after Tehran signed a nuclear deal with the international community in 2015 could it order new planes from Airbus, ATR and Boeing. Only about a dozen of the new planes have been delivered so far.