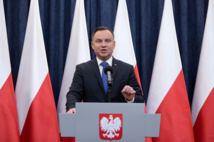 Duda's rival, liberal Warsaw mayor Rafal Trzaskowski from the centrist opposition party Civic Platform, won 48.8 per cent of the vote, according to the tally.
Votes from remaining constituencies "will not significantly affect" the final result, the head of the PKW commission, judge Sylwester Marciniak, said during a press conference.
Voter turnout was unusually high at 68.12 per cent, the commission said.
The result is a win for Poland's ruling national-conservative party Law and Justice (PiS) and its leader Jaroslaw Kaczynski. PiS avoided a scenario in which an opposition president would be able to veto legislation approved by the PiS-controlled parliament.
Duda's win should therefore allow the governing party to consolidate its grip on power. The next nationwide election is scheduled for 2023, when Poles will chose their next parliament.