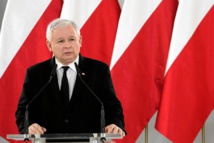 "Under the constitution, the election must now take place, unless a state of emergency is declared," Kaczynski told public radio broadcaster Jedynka.
He argued that the conditions required for such a move have not been met.
For three weeks now, public life in Poland has been drastically restricted by measures put in place to slow the spread of the novel coronavirus.
The opposition claims that this situation amounts to a state of emergency and is calling for next month's election to be postponed.
The governing PiS party is determined to stick to the election date. Its presidential candidate, incumbent Andrzej Duda, is currently leading in the polls.
"Today, our political opponents see their chances as being not very high and think that this will look different in a year," Kaczynski said.
The Polish parliament is to consider a bill on Friday put forward by PiS to introduce postal voting.
Kaczynski said this would allow the election to go ahead without endangering the health of citizens.