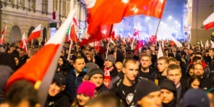 Some 30 million people are eligible to vote in the run-off poll, including more than half a million voters outside Poland. Many of them have to vote by post because of restrictions due to the coronavirus pandemic.
In the first round, held two weeks ago, voter turnout reached 64.5 per cent, the highest level in 25 years. Turnout is usually higher in run-off votes.
Voting kicked off at 7 am (0500 GMT) and is to be organized in line with precautions against the virus. There are limits on the number of people who can enter a polling station; voters will need to stay two metres away from each other and wear protective face coverings.
Voters are also encouraged to take their own pens with them and use hand sanitizer as they enter polling stations.
Voting booths close at 9 pm, when exit poll results are expected to be published.
There is a two-percentage-point margin of error in exit polls, Pawel Predko from Ipsos pollster told dpa. Ipsos plans to survey around 50,000 voters from 500 random but representative polling stations.
Later on Sunday night, Ipsos plans to release what is known as the late poll, based on official results from 90 per cent of the same polling stations.
Official results were not expected until Monday evening at the earliest.