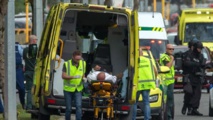 He said 41 people were killed in Deans Avenue Mosque and seven were killed in the Linwood mosque in central Christchurch. One victim died at Christchurch Hospital.
One man in his his late 20s has been charged with murder and is set to appear in Christchurch court on Saturday.
Two other people were arrested with firearms in the area, and police are working through what their involvement is. "We've recovered a number of firearms from both scenes," Bush said.
"We have had no other threats since we've responded to this incident," Bush said.