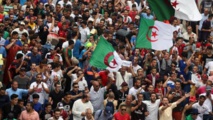 The security forces used batons to break up the demonstrators who started to gather near Grand Post square, which has been a focal point for anti-government rallies this year.
The protesters were chanting against the "farcical presidential elections."
The North African country has been roiled by mass anti-government rallies for months.