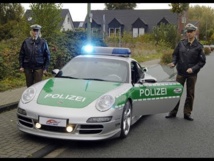 The suspected crimes include assault, breach of the peace, criminal property damage, violations of the right to assembly and resisting law enforcement, a police spokeswoman said Sunday.
More than 600 neo-Nazi participants marched through the city's Friedrichshain district to commemorate the anniversary of the death of Rudolf Hess, a deputy of Adolf Hitler and leading Nazi party figure during World War II.
They were met by a far greater number of counter-protesters, some of whom threw stones and bottles at neo-Nazi participants. Police said they detained 29 people, and that six officers were injured.
The right-wing extremist march was originally planned for the western district of Spandau, where Hess was serving a life prison sentence when he committed suicide in 1987.
Activists from Germany's Green Party, the Social Democratic Party and the German workers' union were among the counterprotesters who gathered in Spandau to rally against the annual neo-Nazi event. Around 2,300 police officers were deployed to prevent clashes between the right-wingers and counterdemonstrators.
Last year's neo-Nazi rally, which marked 30 years since Hess's death, featured hundreds of participants.