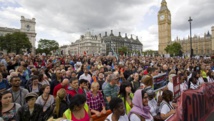 More than 10,000 officers are "trained and available to respond to national issues in extremis," the NPCC said, adding that its plans had been tested and accounted for worst case scenarios.
Britain is currently scheduled to leave the bloc on April 12, but parliament voted on Wednesday to force Prime Minister Theresa May to seek an extension.
"There are strong views on EU exit, and often loud and passionate debate," Hewitt said. "There's a responsibility on us all to think carefully and be temperate in how we communicate so we don't inflame tensions."
Chief Constable Charlie Hall, the NPCC's head of operations, said the police expect to see more protests in the coming weeks but have no reason to think they will be "anything other than peaceful."
However, Hall said that "national and global events have the potential to trigger short-terms rises in hate crime and we saw this with the significant spike following the EU referendum in 2016."
"More than ever, we want to assure victims of hate crime that we'll take your reports seriously and help you get the support you need," he said.
Dozens of lawmakers appealed to police in January to protect them from growing abuse and threats linked to political divisions over Brexit.
Metropolitan Police Commander Adrian Usher, who leads on security of politicians, said officers had warned lawmakers to make "appropriate, proportionate and effective security advice and security arrangements."
"This is important to us because our elected representatives must be able to express themselves and go about their business without facing abuse or harassment," Usher said.
Andrea Leadsom, Conservative Prime Minister Theresa May's leader in the Commons, parliament's elected main house, said she expected "significantly increased security" at the building this month.
Britain could leave the EU on April 12 without a deal unless May can persuade lawmakers to back a withdrawal agreement or negotiate a second delay to Brexit with EU leaders.
Notepad