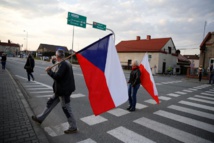 About 300 people took part in a demonstration in Zgorzelec, where during normal times there is a constant stream of residents, commuters and tourists travelling back and forth to the German town of Goerlitz.
The Polish news agency PAP reported protests with more than 100 people in other Polish border communities, including Slubic, Rosowek and Gubin. Many of the participants were cross-border workers who fear for their jobs.
Poland closed its borders to most foreigners in mid-March and, like several other European countries, reintroduced border controls in an attempt to thwart the spread of the new coronavirus. The move initially led to hours-long queues at the border.
Polish citizens returning home from a neighbouring country are also required to undergo a 14-day home isolation, a measure that has caused headaches for workers who live in the region.
"The region is divided into two halves, which makes life very difficult for many people in the border area," Marta Szuster, a spokeswoman for the protests in Rosowek, told the news agency.
There was also a small rally on the Polish-Czech border in the village of Chalupki. Polish commuters expressed fear for their jobs in the Czech Republic if they continued to remain absent from work much longer.
According to the Ministry of Health, there were 10,892 confirmed infections of the novel coronavirus in Poland by Friday afternoon, with 494 deaths.