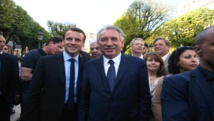 Some 47 per cent of respondents thought the government would not take the results of the consultation process into account at all, the Harris Interactive poll for RTL radio and M6 television showed.
46 per cent thought the government would take people's opinions partially into account, and 4 per cent thought it would take their opinions fully on board.
Macron announced the national consultation process last month, along with a package of tax breaks and pay bonuses costing about 10 billion euros (11.4 billion dollars) and aimed mainly at lower-paid workers and pensioners.
The concessions came after weeks of protests by demonstrators wearing fluorescent yellow safety bibs. Several protests degenerated into clashes with police in Paris and other cities.
The largely leaderless Yellow Vest movement was launched in opposition to planned fuel tax rises. But after the government cancelled those rises, protests continued with demands such as broader tax cuts and higher wages to boost take-home pay.
The Harris Interactive poll showed that citizens' purchasing power was now the number one concern of respondents, with 73 per cent saying it should be a priority for the government in 2019.
The online poll was carried out on December 27 and 28 with a sample of 1,967 respondents.