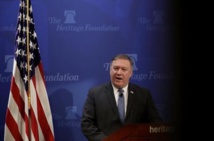 Pompeo, addressing a NATO foreign ministers' meeting in Washington to mark 70 years since the founding of the Western military alliance, also declared that the US remained fully committed to the mutual defence clause of the pact.
The US top diplomat said the West is currently entering a "new era of great power competition," naming specifically challenges from Russia, China and Iran.
"No alliance can remotely match the power of the nations here today," Pompeo said. He said the alliance was in a "position of strength" but it needed to adapt to "emerging threats."
US President Donald Trump has been pressuring members to increase defence spending to hit 2 per cent of GDP, in line with goals NATO set in 2014.
Germany has been a particular target of Washington's criticism, but German ministers have hit back at suggestions that Berlin is not abiding by its promises on defence spending.
NATO chief Jens Stoltenberg addressed a joint meeting of the US Congress on Wednesday and conceded there are differences among members, including over trade, the Iran nuclear deal and climate change.
However, Stoltenberg also insisted the alliance has overcome disagreements in the past and kept the focus on mutual defence.
The intentions of NATO member Turkey to purchase this year an advanced Russian air defence system, the S-400, have caused concern in Washington, where officials are warning such a move would trigger sanctions.
Notepad