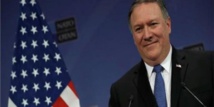 However, he reiterated that Washington's goal is to "fundamentally reverse the malign activity of this Islamic Republic."
The US has been placing immense economic pressure on Iran for over a year in the form a sanctions that were reimposed as Washington abandoned the nuclear deal reached between Tehran and the international community in 2015.
Tensions have since escalated to the point that there is talk of potential war.
On Sunday, the US Navy said it had conducted a military exercise involving the air wing attached to its aircraft carrier Abraham Lincoln and a US Air Force B-52H bomber over the Arabian Sea.
The exercise took place on Saturday and was designed to "improve operational tactics in several warfare areas," the navy said in a statement.
It included air-to-air training, flying in formation and simulated strike operations, it added.
The exercise was carried out not too far from the Iranian and Yemeni coastlines.
Last month, the US dispatched the USS Abraham Lincoln Carrier Strike Group and a bomber task force to the US Central Command in the region.
The US said the move was a response "to a number of troubling and escalatory indications and warnings," without specifying what they were.
Iran announced in May that it was partially withdrawing from the nuclear agreement, which is meant to prevent an Iranian nuclear arsenal, and has demanded that major powers lift oil and banking sanctions.
The International Atomic Energy Agency (IAEA) said on Friday that Iran's nuclear programme has not expanded beyond the limits of the 2015 agreement.
The other signatories to the deal - Britain, France, Germany, Russia, China plus the European Union - have expressed the desire to keep it alive.