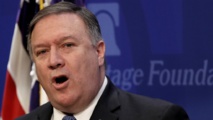 "Real progress" has been made in the last 72 hours towards setting the conditions for a summit, Pompeo said, but he added that he did't know whether the June 12 summit would still take place.
North Korea appears to be considering making a "strategic shift" towards denuclearization, he said.
Kim Yong Chol is planning to travel to Washington on Friday to deliver a personal letter from Kim Jong Un, Pompeo said.