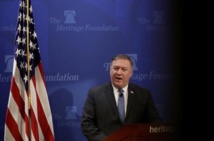 The US classifies the entire Shiite Muslim movement of Hezbollah as a terrorist organization, while the European Union only describes the group's military wing as terrorist.
Pompeo, making his first visit to Lebanon as secretary of state, is to hold separate talks with Lebanese President Michel Aoun and parliamentary Speaker Nabih Berri, who are close allies of Hezbollah.
Pompeo is also due to meet with Prime Minister Saad Hariri, a Western Sunni ally.
In an interview with the Saudi-owned television Al-Arabiya, the US top diplomat described Hezbollah as a terrorist organization and voiced regret that previous administrations did not do much to rein in the movement.
"My regret is that for the past decade the American administration hasn't done nearly enough, hasn't made clear our expectations," Pompeo said in the interview aired on Thursday.
Hezbollah has members inside the Lebanese parliament and the Hariri government.
Hezbollah has sent fighters to war-torn Syria to battle along government forces against rebels seeking to topple Syrian President Bashar al-Assad.
On Thursday, some 200 members of the Lebanese Communist Party protested outside the US embassy in Beirut against Pompeo's visit, saying he was coming to impose "American and Israeli will" on their country.
The protest was organized under the slogan "Hands off Lebanon."
Pompeo's two-day visit to Lebanon is part of a regional trip that has already taken him to Kuwait and Israel.
Notepad