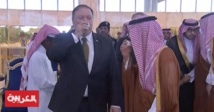 Tensions have risen between Washington and Riyadh over the missing Saudi dissident, who has not been seen since he entered the Saudi consulate in Istanbul two weeks ago.
US President Donald Trump promised "severe punishment" if the kingdom's leadership killed him.
Oil-rich Saudi Arabia, which denies any involvement, vowed to respond to steps taken against it with "greater action" and warned of consequences for the global economy.