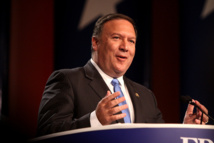 "I had the chance to speak with my DPRK counterpart FM Ri Yong Ho ASEAN today. We had a quick, polite exchange. Our US delegation also had the opportunity to deliver POTUS reply to Chairman Kim's letter," Pompeo tweeted.
Photos posted alongside the tweet showed Pompeo smiling and shaking hands with Ri, with another shot showing Ri handing a white envelope to one of his aides.
White House spokesperson Sarah Sanders said this week that US President Donald Trump had received a letter from North Korean leader Kim Jong Un to follow up on their recent talks about denuclearization of the Korean Peninsula.
The content of the letters have not been disclosed.