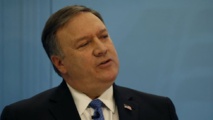 He is expected to meet US Secretary of State Mike Pompeo during the coming two days amid attempts to salvage an unprecedented summit between the leaders of the two countries.
Pompeo was due to leave for New York "for dinner tonight as well as a day full of meetings tomorrow," White House spokeswoman Sarah Sanders said.
"We are continuing to prepare for the meeting between the president and the North Korean leader. As the president says, if it happens, we'll certainly be ready," she said.