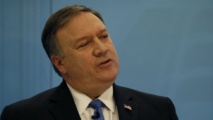 Pompeo will present a "diplomatic road map" for reaching a new nuclear deal with Iran in a speech at 9 am (1300 GMT) at the conservative Heritage Foundation in Washington.
The new strategy will seek to create a framework that will address the totality of Iran's threats, a State Department official said last week.
It comes two weeks after President Donald Trump unilaterally withdrew the United States from the Iran nuclear deal announced in 2015 and reinstated economic sanctions against Tehran.
Pompeo consulted the foreign ministers of Germany, France and Britain - the European architects of the deal - ahead of his speech, the State Department said.
China and Russia are the other countries in the deal. All remaining participants have pledged to stay in it even without US support.
Pompeo's speech aims to achieve revisions to the deal that address Trump's main concerns: so-called sunset clauses that allow some of the restrictions of the deal to expire over time, Iran's ballistic missile development, its alleged participation in civil wars in the region and an ineffective inspections regime.