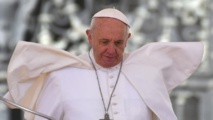 "Dear friends, we cannot tolerate or turn a blind eye to any kind of racism or discrimination and pretend to claim to defend the sacredness of every human life," he added.
"At the same time, we have to recognize that the violence of recent nights is self-destructive and self-defeating. Nothing is gained by violence and so much is lost," Francis concluded.
The pope said he was praying for "the repose of the soul of George Floyd and of all those others who have lost their lives as a result of the sin of racism," as well as for "grieving families" and "national reconciliation and peace."
His remarks came a day after the Catholic archbishop of Washington, Wilton Gregory, criticized a visit by President Donald Trump to the Saint John Paul II National Shrine.
Floyd, an unarmed black man, died from asphyxiation on May 25 after a policeman immobilized him after his arrest by kneeling on his neck for several minutes.
The killing has sparked nationwide anti-racism protests and brought again to the fore the issue of police violence and heavy-handed tactics used against African Americans.