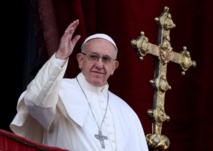 By Lobna Monieb and Alvise Armellini, dpa
Dublin

(dpa)

-
Pope Francis renewed his plea for forgiveness for the abuse of power by members of the Catholic church at a mass before tens of thousands of worshippers in Dublin on Sunday.
"We ask forgiveness for the times that, as a church, we did not show the survivors the compassion, justice, and truth through concrete actions," the pope said at the end of the first papal visit to Ireland since 1979.
"We ask for forgiveness for the persons in charge within the church hierarchy who did not take action in these situations and kept quiet," the pontiff said.
The remarks come as the pope was hit by allegations of covering up sex abuse carried out by former Washington DC archbishop Theodore McCarrick.
Earlier on Sunday, a former papal envoy to the US, Carlo Maria Vigano, called on the pope to resign over his lifting of sanctions on the Washington archbishop despite reports about his "gravely immoral behaviour with seminarians and priests."
On Sunday several hundred marched in protest against the pope's visit in both Dublin and the town of Tuam, where 796 children were secretly buried at a Catholic-run children's home between 1925 to 1961.
Sunday's mass was the focal point of the pontiff's visit to Ireland as part of the World Meeting of Families. The Vatican said that half a million free tickets were booked for the mass in the 700-hectare Phoenix Park in Dublin.
Earlier on Sunday the Pope flew to Knock in the north where he visited the Marian Shrine and said the Angelus prayer. The pontiff also met eight survivors of sexual abuse on Saturday.
In Knock, Francis said the sexual abuses were an "open wound that must be treated with firm and decisive action.
The pope arrived on Saturday to begin his two-day visit to the country, where 74 per cent of people still identify as Catholic.
He met with President Michael D Higgins, Taoiseach (prime minister) Leo Varakdar and Children's Minister Katharine Zappone, all of whom spoke to him about the impact of Ireland's legacy of clerical child abuse.