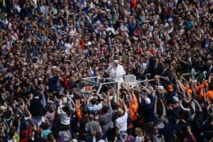 "So many other footsteps are hidden in the footsteps of Joseph and Mary. We see the tracks of entire families forced to set out in our own day," Francis said in an homily.
"In many cases this departure is filled with hope, hope for the future; yet for many others this departure can only have one name: survival," he added.
Jesus "in his poverty and humility proclaims and shows that true power and authentic freedom are shown in honouring and assisting the weak and the frail," Francis said.
The 81-year-old pope, the son of Italian emigrants to Argentina who often speaks up for the rights of migrants and refugees, led one of the most important ceremonies in Catholic liturgy.
Following tradition, he entered St Peter's just before 9:30 pm (2030 GMT) holding a ferula - a silver papal stick with a cross - and preceded by a procession of cardinals and other top prelates.
Before Mass, Francis lifted a cloth covering a baby Jesus figure in a symbolic celebration of his birth, and 11 children from Europe, Asia, Africa and Latin America laid flowers by the shrine.
At the end of the service, the pontiff was due to pick up the doll-size Jesus figure and, escorted by the children, place it in a nativity scene inside the basilica.
Earlier, delivering the Sunday Angelus message, the leader of the world's 1.2 billion Catholics urged the faithful to find a quiet moment to reflect on the true meaning of Christmas.
"In these hours that lead us to Christmas, I invite you to find a few moments to stop in silence and prayer before the crib, in order to truly worship the mystery of Christmas," Francis said.
He invoked "the gift of peace for the world" and prayed for the liberation of kidnapped priests, nuns and laypeople, as well as for people hit by a deadly tropical storm in the Philippines.
"I wish to assure my prayers to the population of Mindanao island in the Philippines. ... May the merciful Lord receive the souls of the dead and comfort those who are suffering for this disaster," he said.
On Christmas Day, Francis is set to deliver at noon the traditional Urbi et Orbi (to the city and to the world) message and blessings from the central balcony of the Vatican basilica.