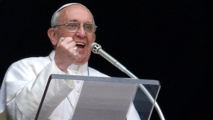 Francis and 17 other Christian leaders started the day in Bari's Roman Catholic Basilica, where they venerated the saint's relics and lit a lamp by his tomb.
The religious leaders then rode on an open top bus to a seafront location, where they led peace prayers in front of tens of thousands of people.
"We feel drawn to live this day with minds and hearts turned
towards the Middle East, the crossroads of civilizations and the cradle of the great monotheistic religions," the pope said.
The region, he lamented, "has been covered by dark clouds of
war, violence and destruction, instances of occupation and varieties of fundamentalism, forced migration and neglect."
Francis and his guests stood in a row, their robes flapping in the wind, on a platform adorned by a giant cross and a sign "May there be peace upon you."
Coptic Orthodox Pope Tawadros II of Egypt and the Patriarch of Constantinople Bartholomew, the spiritual leader of the Orthodox world, were among those present.
Metropolitan Hilarion, the foreign minister of the Russian Orthodox Church, and newly-appointed Cardinal Louis Raphael I Sako, head of the Chaldean Catholic Church of Iraq, were other notable attendees.
There were prayers, chants and readings from the Gospel in Italian, English, Armenian, Syriac, Greek, Arabic, French and Assyrian, and at the end, each leader lit a peace candle.
A special focus was on the Middle East's embattled Christian minorities, whose numbers have severely dwindled in recent years, amid Islamist attacks in places like Syria, Iraq and Egypt.
"The presence of our brothers and sisters in the faith [may] disappear, disfiguring the very face of the region. For a Middle East without Christians would not be the Middle East," Francis lamented.
After the prayers, the religious leaders returned to the basilica to have closed-door discussions on ecumenism, the long-term, elusive aim of ending divisions between Christian churches.
The ANSA news agency, quoting local authorities, said police deployed 1,000 officers, 250 security cameras and drones to ensure security for the religious event.
Francis is not new to organizing peace prayers for the Middle East.
In 2014, he had then-Israeli president Shimon Peres and Palestinian leader Mahmoud Abbas come to the Vatican to pray jointly for peace, but this did not lead to a thaw in Israeli-Palestinian relations.