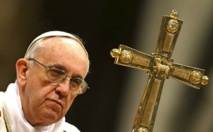 Francis' plane took off from Rome's Fiumicino airport shortly before 10 am (0900 GMT) and was scheduled to land at Panama's Tocumen airport at 4:30 pm (2130 GMT).
"I am leaving for the World Youth Day in Panama. I ask you to pray for this very beautiful and important event on the path of the Church," the pope tweeted.
Before leaving his Vatican residence, Francis had a meeting with eight refugees hosted by a Catholic centre in Rome, the Vatican said in a statement.
The Panama trip comes as the Catholic Church is facing an unprecedented crisis over its historic failing to punish priests who abuse children.
From February 21-24, Francis is due to host a summit with head bishops of national Catholic Church organizations from around the world to discuss the child abuse crisis.