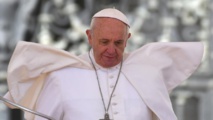 "In this time in which we need a lot of unity among us, among nations, let us pray today for Europe," Francis said at the start of his morning Mass in the Vatican's Santa Marta residence.
"[Let us pray] so that Europe may achieve this unity, this brotherly unity which the founding fathers of the European Union dreamed of," he added.
Francis is the first non-European leader of the Catholic Church since the 8th century, but he has European roots as he is the son of Italian immigrants to Argentina.
The EU has been bitterly divided on the economic response to the novel coronavirus pandemic, with northern countries like Germany and the Netherlands resisting calls for aid from Italy and Spain.
EU leaders are due to meet via video conference on Thursday.
Notepad