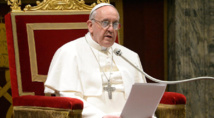 Francis' plane left Rome airport shortly before 9 am (0800 GMT) and was due to land in Chile's capital Santiago after a 15-hour and 25-minute flight.
"I ask you to accompany me on my journey to Chile and Peru in your prayers," the pontiff wrote on Twitter shortly before his departure.
The Argentine pope will stay in Chile until Thursday and then travel to neighbouring Peru, where an earthquake killed one person and injured dozens on Sunday.
In Chile, the pope's visit was preceded by six arson attacks against churches or parishes. A leaflet left at a parish in Santiago de Chile criticized "the domination" the Catholic Church wanted to exercise over people.
Chile is the Latin American country where the pope is least valued, receiving an approval rating of 5.3 out of 10, according to a poll by the non-governmental organization Corporacion Latinobarometro.
Latinobarometro director Marta Lagos said Francis' popularity had declined over the case of Chilean priest Fernando Karadima, whom the Vatican finally found guilty of abusing minors in 2011, after years of accusations.
The pope has been criticized for his 2015 appointment of Juan Barros as bishop of Osorno, Chile, despite allegations that Barros had protected Karadima.
The Vatican has meanwhile tried to mitigate the repercussions of another sexual abuse scandal in Peru, announcing last week that it was taking over a Catholic movement based there, Sodalicio, whose founder prosecutors want to arrest over alleged abuses.
Thousands of believers were travelling from neighbouring countries to Chile to see the pope, whose programme includes visits to Temuco in the centre and Iquique in the north.