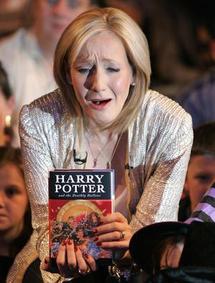 .The donation is a much-needed shot in the arm for Prime Minister Gordon Brown's debt-ridden party, which has been trailing the main opposition Conservatives by as many as 28 percentage points in the polls, and comes as Labour is set to kick off its annual party conference.
Rowling -- who was a single mother in Edinburgh surviving on state benefits when she was writing the first in the series about the bespectacled boy wizard -- said she backed the government's efforts to reduce child poverty, and opposed Conservative plans to give tax breaks to married couples.
The 43-year-old author now has a fortune totalling around 560 million pounds, according to the latest Sunday Times Rich List.
"I believe that poor and vulnerable families will fare much better under the Labour Party than they would under a Cameron-led Conservative Party," Rowling said, referring to Conservative leader David Cameron.
"Gordon Brown has consistently prioritised and introduced measures that will save as many children as possible from a life lacking in opportunity or choice."
She said opposition plans for tax support for married couples sent a message that the Conservatives "still believe a childless, dual-income, but married couple is more deserving of a financial pat on the head than those struggling, as I once was, to keep their families afloat in difficult times."
Brown, meanwhile, said in a statement that he was "delighted that J.K. Rowling, who is one of the world's greatest ever authors, has made such a generous donation."
Labour -- which has debts totalling 17.8 million pounds -- is entering its conference in the northern city of Manchester amid internal party rows over Brown's leadership, with the party near its lowest-ever points in the opinion polls.
The Harry Potter series of books have sold over 400 million copies, have been translated into 67 languages, and have spawned a successful film franchise and theme park.