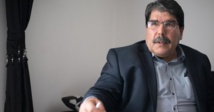 The detention over the weekend comes amid a Turkish military offensive against Afrin, a Kurdish region of north-western Syria. Muslim, 67, is a former leader of the main Syrian-Kurdish political party and was taking part in a political forum in Prague.
"This decision, very clearly, is a decision that supports terror," Turkey's government spokesman and deputy prime minister Bekir Bozdag said in Ankara, adding that the release was a "political decision."
"The court has released him and there are now hundreds of his followers waiting outside the court to greet him," Ebrahim Ebrahim, a Kurdish official, told dpa from Prague by phone.
Muslim was arrested on Sunday on the basis of an Interpol warrant related to a case apparently opened in 2017. Turkey put Muslim on a list of wanted terrorists two weeks ago, saying he was a member of the outlawed Turkish-Kurdish Kurdistan Workers' Party (PKK).
Turkey has been seeking his arrest in connection with the February 2016 bombing of a military convoy in Ankara which killed 30 people, mostly soldiers and employees of the military. That attack was claimed by the splinter group Kurdistan Freedom Falcons (TAK).
A bounty of some 800,000 euros (980,000 US dollars) was put on Muslim's head, Turkey's state-run Anadolu news agency reported.
Turkey's ambassador to Prague, Ahmet Necati Bigali, said the decision was "a huge disappointment for us."
"I'm afraid this decision could reflect negatively on our bilateral relations," he told broadcaster Haberturk. He indicated Muslim was free to leave the country.
Prior to the court decision, Prime Minister Binali Yildirim described it as a "test" for the Czech Republic, a NATO ally of Turkey.