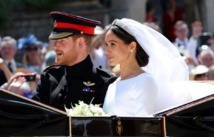 The black and white photo shows the couple enjoying a fireworks display on the evening of their wedding in Windsor, where they married on May 19.
Thousands of people lined the streets of the royal English town to celebrate their marriage but the party in the evening was behind closed doors.
Harry and Meghan recently announced they will move from London to a property in Windsor as they welcome their first child next year.