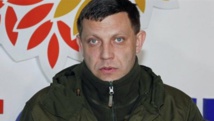 Zakharchenko was killed in the Donetsk region's eponymous capital in the early evening at the Separ restaurant in the city centre, according to the rebel group's mouthpiece, the Donetsk News Agency.
Russia condemned Zakharchenko's assassination as a terrorist attack perpetrated within the vicinity of civilians.
Ukraine's federal security service said the rebel leader was not the only person killed in the blast, according to comments carried by state media.
Russia's Foreign Ministry said "there is every reason to believe that behind his murder is the Kiev regime, which has repeatedly used similar methods to eliminate dissenters."
"Not having fulfilled a promise of peace, it seems they have decided to opt for a bloodbath," spokeswoman Maria Zakharova told dpa. The world should demand an objective investigation, she said.
Fighting in eastern Ukraine has flared up in recent weeks despite renewed calls for peace for the start of the school year.
The Organization for Security and Cooperation in Europe (OSCE), which monitors the conflict, demanded this week that both the Ukrainian military and the rebels honour their recommitment to peace.
The Ukrainian military said last week that at least four of its soldiers were killed in an escalation in fighting.
The conflict, in Ukraine's two easternmost regions, Donetsk and Luhansk, which border Russia, erupted four years ago in response to Ukraine ousting its pro-Russian president in a pivot to the West.
More than 10,000 people have been killed in the conflict, according to estimates by the United Nations. Russia has repeatedly denied allegations of fuelling the conflict.
Russian President Vladimir Putin, who has represented the rebels in peace talks, indicated support this month for a potential UN peacekeeping mission in the conflict area.
German Chancellor Angela Merkel, who has directed European Union pressure on Russia to end the conflict, told reporters alongside Putin at a summit near Berlin on August 18 that Germany would back efforts for such a peacekeeping mission.