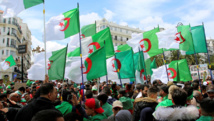 The city's major squares, focal points for pro-reform demonstrations in the past months, appeared empty Friday, they added.
"There were only policemen walking near the Central Post Square, the stronghold of the popular protest movement," a witness told dpa.
A helicopter flew overhead as a government car roamed the nearby streets, calling on people through a loudspeaker to stay at home as part of precautions against the spread of the coronavirus, the witness said on condition of anonymity.
Other witnesses said the city's main streets were empty of car and pedestrian traffic while coffee shops, stores and restaurants shut down.
Algeria has reported 10 deaths from the virus and 90 infections.
In February last year, street protests erupted against then-president Abdulaziz Bouteflika. In April, Bouteflika resigned under pressure from protests and the powerful military.
Protests have since continued every Friday, demanding an overhaul of the political system and departure of the Bouteflika-era officials.
In December, Abdelmadjid Tebboune took office as Algeria's president.
Opponents consider Tebboune to be part of the Bouteflika regime, as he served briefly as prime minister in 2017.
This week, Tebboune ordered a ban on gatherings as part of measures to prevent the spread of the virus.
Several opposition parties and activists also called for suspending protests due to the coronavirus.