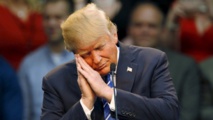 The clock is ticking on negotiating legislation that would spare the programme, which will begin winding down in March unless Congress and Trump can agree on a bill.
"DACA is probably dead because the Democrats don't really want it, they just want to talk and take desperately needed money away from our military," Trump wrote on Twitter.
DACA is the Deferred Action for Childhood Arrivals programme, put in place under former president Barack Obama. It allows an estimated 800,000 people, mostly from Mexico and Central and South American countries, to remain legally in the US.
In a separate tweet, Trump repeated his desire for merit-based immigration policies.
White House spokesman Raj Shah said Sunday on Fox News that the president wants border security issues, including funding for a wall along the US-Mexico border, to be part of any deal. Some Democrats have called for a "clean" bill that addresses only the DACA issue.
Shah said there are a number of "ongoing conversations" on immigration that will continue.
The developments come after a major controversy regarding reports that Trump referred to "shithole countries" in a discussion about immigrants from African nations, El Salvador and Haiti. Trump's alleged choice of words in Thursday's meeting drew widespread condemnation and sharp reactions from the countries themselves.
The president admitted using "tough" language in the White House meeting with a group of senators, but denied using profanity.
On Sunday, a close ally of the president who was at the meeting, told ABC News that reports have misrepresented the president's comments.
"I'm telling you he did not use that word," Republican Senator David Perdue said. He said reports about the meeting had been a "gross misrepresentation" of what happened.
Perdue said there were six people in the room and only one, Senator Richard Durbin, a member of the opposition Democrats, publicly divulged Trump's alleged choice of words.
There were reports of "language used that was not used," Perdue said, adding that reports that the meeting was "not contributory and not constructive" also were misrepresentations.
Reports about the meeting cited multiple sources, but only Durbin was named. One of the other senators at the meeting, Republican Lindsey Graham, didn't deny that Trump used the words "shithole countries" but said he pushed back on comments he made.
"Following comments by the president, I said my piece directly to him yesterday," Graham said in a statement. Graham added that the American people "will ultimately judge us on the outcome we achieve, not the process which led to it."