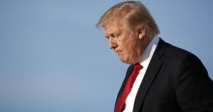 The Wall Street Journal and the New York Times cited a statement from a lawyer working for the committee saying a subpoena for documents had been received.
Prosecutors requested all documents relating to the committee's donors as well as records of tickets and photo opportunities donors received in exchange for contributions, the WSJ reported.
The subpoena also requested records of donations "made by or on behalf of foreign nationals, including but not limited to any communications regarding or relating to the possibility of donations by foreign nationals," according to the WSJ.
The paper reported in December that there was a criminal investigation into the committee, which raised 107 million dollars for Trump's inauguration in January 2017.
The Times reported at the same time that prosecutors were examining whether people from countries in the Middle East - including Qatar, Saudi Arabia and the United Arab Emirates - made secret donations to Trump's inaugural committee in the hope of buying political influence.