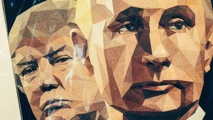 "We have been waiting for quite a long time for positive changes [in Washington's attitude to Moscow], we hoped that the situation will change," Putin said in an interview with state broadcaster VGTRK.
"I thought we must demonstrate that we are not going to leave anything unanswered either," he said, according to the interview quoted by TASS.
Putin said Russia could impose additional measures against the US, but added that "I am against it as of today."
On Friday itself the Russian Foreign Ministry threatened to expel US diplomats and said it was ending US access to a diplomatic estate in the Moscow region.
For weeks Moscow had warned that if Washington would not reinstate Russia's access to two diplomatic estates closed off last year in the US, it would undertake a reciprocal measure.
The Foreign Ministry in Moscow had said that "we request" the number of personnel at US diplomatic institutions in Russia be reduced to 455 people by September 1.
Putin's announcement on Sunday confirmed the exact number of diplomats.
It came as US Vice President Mike Pence kicked off a three-day tour of Eastern Europe by meeting with Estonian Prime Minister Juri Ratas in Tallinn.
Pence said the United States was committed to NATO and a common defence in Eastern Europe.
A US bill to impose new sanctions against Russia, Iran and North Korea received overwhelming support in Congress and was being sent to President Donald Trump for final approval.
The White House said late Friday that Trump intends to sign it, despite aides previously indicating he could veto it.
The proposed sanctions were put forward as punishment for alleged Russian cyberattacks designed to influence last year's US presidential election in favour of Trump, who expressed intentions to rebuild US-Russian relations.
The legislation has stipulations that would prevent the president from unilaterally softening or repealing the measures at a later time.
Relations between Russia and the US have plummeted to their lowest point since the Cold War.
Notepad