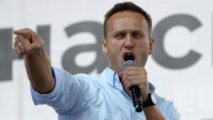 Navalny
"I am sure he was poisoned on purpose," Yarmysh told the radio station Echo Moskvy.
The local health authorities in Omsk confirmed an incident had taken place. Russian news agency Tass cited the chief doctor at the hospital as saying Navalny was in "serious" condition.
Navalny, a well-known anti-corruption fighter and an outspoken critic of President Vladimir Putin, had been repeatedly targeted in the past.
Yarmysh speculated that Navalny may have drunk poisoned tea. She said it was the only drink he had consumed.
Navalny claimed to have been poisoned with a toxic agent last year when he was jailed following a demonstration.
He had been detained along with more than 1,000 people at an opposition protest in central Moscow. A day later he was hospitalized, complaining of eye pain and changes to his skin.
There have been repeated cases of suspected poison attacks in Russian politics in recent years.