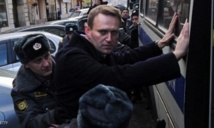 In power as president or prime minister for nearly two decades, Putin is almost certain to win another six-year term as president on March 18. Putin is campaigning as a guarantor of stability in the country, reminding voters of the chaos of the post-Soviet 1990s that preceded his reign.
Navalny and his supporters hope the election will be undermined by a low voter turnout. About 200 people were detained at Navalny rallies throughout the country on Sunday, reported the opposition-leaning news site Meduza, which has been closely following the events.
While on his way to the protest on Moscow's Pushkin Square, Navalny was wrestled to the ground and dragged into a police vehicle, according to a video posted on his Twitter page.
Police had raided the Moscow headquarters of Navalny's grassroots campaign a few hours earlier, saying they were looking for a bomb, Navalny posted on Twitter.
Officers broke down the door while staffers were filming a video message. Several staff members were detained, said Navalny and members of his team via Twitter.
Municipal authorities have emphasized that the protests were not approved and threatened legal action against Navalny.
Protesters in Moscow chanted, "Putin is a thief," and, "Russia without Putin." Authorities blasted a message via loudspeaker, asking for the "dear citizens" to leave. Protesters shouted, "We will not leave."
Vasily, a pensioner, said he hoped for a political change. He has a pension of 10,000 roubles (about 175 dollars) a month and must work as a janitor to make ends meet.
He accused the nation's leadership of embezzling funds much-needed by the populace. "I think things will be better after Putin," he told dpa.
A student who said she came in support of Navalny was not optimistic. "This won't change anything," she said, noting that the crowd, which appeared to be at least several hundred people, was actually much smaller than previous protests.
Russian electoral authorities rejected Navalny's candidacy because he was previously convicted of financial crimes, for which he received a suspended sentence. Navalny has denied wrongdoing.
He has condemned those charges as trumped up, saying they are designed to thwart his political ambitions. He has also been detained numerous times for violating rules against holding unsanctioned public gatherings.