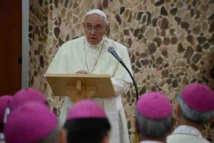 It is Putin's third audience with Francis after 2013 and 2015.
According to Paolo Pezzi, the Catholic Archbishop of Moscow, the two leaders are likely to talk about world peace efforts and the fight against climate change.
"I can imagine that themes dear to the Holy Father, such as peace and safeguarding our common home, are likely to be on the agenda of discussion," he told Vatican Radio.
Another key issue between Moscow and the Vatican is Francis' ongoing push to improve historically strained ties between Catholics and Orthodox Christians.
A long-held goal of the pope is to make a historic visit to Moscow, but according to Pezzi, the Russian Orthodox Church is not yet ready to countenance such a step.
"It is not likely the Russian president will invite the pope on his own without the backing of the [Russian] Orthodox Church," the archbishop said.
While in Rome, Putin is also slated to meet with Italian President Sergio Mattarella and Italian Prime Minister Giuseppe Conte, and to hold a press conference with Conte.