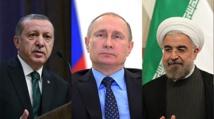 A day before the milestone meeting, to be the first trilateral talks in person between Putin, Turkey's Recep Tayyip Erdogan and Iran's Hassan Rowhani, Iran announced that the extremist group Islamic State had been practically defeated in Syria and neighbouring Iraq.
Russia and Iran, major military backers of Syria's controversial ruling regime, and Turkey, which has opposed that regime, have come together to support a broad ceasefire in Syria, which has been devastated by years of a multi-sided civil war. The ceasefire does not include certain extremist groups, such as Islamic State.
The trilateral meeting in the southern Russian city of Sochi was expected to centre around prospects for a "peaceful and lasting political settlement in Syria after the routing of the terrorists," Putin told Syrian President Bashar al-Assad on Monday, according to a Kremlin transcript.
Putin was photographed embracing the Syrian leader in Sochi as they met to lay groundwork for the trilateral summit. "We will accept and talk with anyone who is really interested in a political settlement," al-Assad assured Putin.
Russia has been "working closely together with other countries, such as Iraq, the United States, Egypt, Saudi Arabia and Jordan," Putin told al-Assad. "We maintain constant contact with these partners."