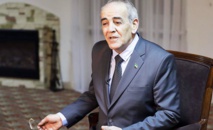 He was reacting to reports that Moscow has set five conditions for the resumption of negotiations between the regime and the opposition, and has again urged the opposition to drop the condition of a transition without Assad.
Assad "wouldn't be able to besiege and bombard our people without the support of Russia's air force, nor could he continue to sabotage the peace process unless (Russian President Vladimir) Putin allows it," Al-Aridi said.
"While we've been fighting Daesh, Russia and the regime have been using most of their firepower against the Syrian people."
Daesh "could never have captured a single town without Assad turning a blind eye," Al-Aridi said.
Russia has been more interested in "using terrorism for propaganda than in helping to rid our country of Daesh," he added.
Meanwhile, Moscow has asked the opposition to openly declare that it is willing to fight Daesh and join the international fight against Jabhat Fateh Al-Sham (JFS).
Bahia Mardini, a UK-based Syrian journalist and human rights activist who fled regime persecution, told Arab News that it is ridiculous to suggest that Syrians must choose between Assad and terrorist groups "because they're both brutal."
It is critical for Syria's future that terrorist groups such as Daesh and JFS are defeated, she said, adding: "They have no place in Syria; they're only there to manipulate the people to gain power."
Defeating terrorism is fundamental to a peaceful future not only in Syria but across the world, "but it's also absolutely necessary that we reach a peaceful agreement that sees Syrians free to elect our own leaders," Mardini said.
"We must focus on reaching a political solution, and the international community must apply pressure on the regime to engage in the UN negotiations."
The opposition, she said, is simply articulating the wishes of ordinary Syrians back home. "We want and deserve a future free from the persecution of Assad and from the violence of terrorism," she added.
"The idea that we can only defeat terrorism through Assad is completely false."
In a statement, a spokeswoman for the State Department said the US wants the regime's supporters "to use their leverage to urge the regime to participate fully in tangible negotiations with the opposition in Geneva."
The US "urges all parties to work seriously toward a political resolution to this conflict or face continued isolation and instability indefinitely in Syria," Reuters quoted spokeswoman Heather Nauert as saying.
Regime forces on Saturday entered small parts of the north-western opposition-held province of Idlib in one of their deepest incursions into the area, where the regime has almost no presence.
Regime troops captured the village of Tal Al-Khanazeer on the south-eastern edge of Idlib, the Associated Press reported.
-------------------