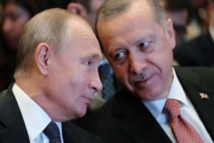 Both leaders have expressed hopes for reaching a new deal to mitigate an escalation of violence in the region, Syria's last rebel stronghold, near the Turkish border.
Putin has been looking to agree on a "package of necessary joint measures," Kremlin spokesman Dmitry Peskov said in comments carried by state media.
Dozens of Turkish soldiers were reported killed in attack blamed on the Syrian state military, Russia's ally, in the Idlib region last week.
Erdogan said ahead of Thursday's meeting that he would seek to ensure a renewed ceasefire for the region to prevent further bloodshed. He said the truce effort would be a focus of his talks with Putin.
A previous ceasefire deal quickly fell apart. Turkey and Russia, which back opposing sides in Syria's civil war, have been accusing each other of failing to adhere to that agreement.