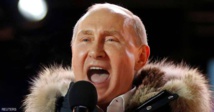 The 65-year-old is now likely to dominate Russian politics for at least another six years. Putin has been in power as president or prime minister for nearly two decades.
The runners-up were the Communist Party's Pavel Grudinin with 11.8 per cent, nationalist firebrand Vladimir Zhirinovsky with 5.7 per cent and socialite turned journalist Ksenia Sobchak with 1.7 per cent, according to the electoral commission.
Voter turnout was reported at 67 per cent, compared with 65 per cent at the last election. Earlier the electoral commission said turnout appeared "significantly higher" in most regions than when Putin was last elected in 2012.
Around 109 million voters were eligible to vote on Sunday.
The election took place on the fourth anniversary of Russia's annexation of the Crimean peninsula, which provoked international criticism, but boosted Putin's popularity at home.
Independent Russian observers of Sunday's election recorded about 3,000 incidents of attempted manipulation or multiple voting.
The Organization for Security and Cooperation in Europe (OSCE) also despatched 600 observers to Russia for the poll.
Russia will remain a difficult but necessary partner following Putin's re-election, German Foreign Minister Heiko Maas said on Monday.
"The election result in Russia surprised us just as little as the circumstances of this election," Maas said, explaining that the political contest was not entirely fair.
He also said it was "unacceptable" that Crimea took part in the vote.
"We therefore assume that Russia will remain a difficult partner. But Russia is also needed when it comes to solving the big international conflicts," Maas said in Brussels, where he was attending a meeting of EU foreign ministers.
"This is why we want to remain in dialogue," the minister added. "But we also expect constructive contributions from Russia, more than have most recently been the case."