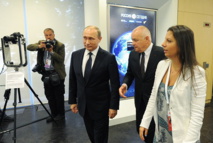 The speech is expected to include a wide array of prospects for the country's future development, Putin's spokesman Dmitry Peskov said in comments carried by state media, without elaborating.
Putin, who usually gives the speech in December, skipped it last year. He announced in early December that he would run for re-election, and the speech was moved to March.
Putin, who has served as president or prime minister for nearly two decades, is widely expected to win another six-year term as president on March 18.