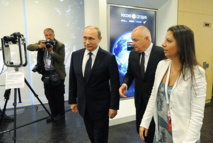 Putin and Finnish President Sauli Niinisto are to attend a celebration in honour of Finland's centennial anniversary of independence from the Russian Empire.
Their meeting takes place in the eastern Finnish town of Punkaharju, and includes a steamship cruise on lake Saimaa to the 15th-century Olavinlinna castle in the city of Savonlinna.
At the castle, the leaders were to attend a Bolshoi Theatre guest production of Pyotr Ilyich Tchaikovsky's opera "Iolanta," part of the Savonlinna Opera Festival.
Putin visited Finland a year ago, and the two leaders met in March in the northern Russian city of Arkhangelsk.
Putin's visit takes place as week-long naval exercises between China and Russia in the Baltic Sea are drawing to a close. Tensions have risen in the region in recent years.
EU-member Finland shares a 1,300-kilometre long border with Russia. It has since 1994 cooperated with NATO in the Partnership for Peace programme and participated in NATO-led operations in Afghanistan but it not a member of the Western military alliance.