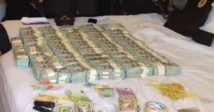 "Regulators may nevertheless approach individual European banks and demand a strengthening of capital or reduction of risk," said Philipp Wackerbeck, a partner at PwC's strategy consulting group.
Wackerbeck didn't mentioned the names of individual financial institutes that may need to increase capital or sell risky assets.
Financial houses from 15 European Union states and Norway – representing about 70 per cent of the region's combined banking assets - participated in the latest stress tests, which were released by the European Banking Authority (EBA) and the European Central Bank (ECB) on Friday.
Authorities say the tests were the toughest since the checks were launched in 2009.
The EBA said all 48 lenders included in its health check of the banking sector scored higher than the minimum required common tier ratio of 5.5 per cent set under the so-called adverse scenarios.
The ratio measures a bank's core equity capital compared with its total risk-weighted assets.
Another large auditing firm, KPMG, said its own calculations indicated that several of the banks would fall below the 5.5-per-cent threshold when taking into account upcoming changes in banking regulation.
Banks were not required to take the Basel Accords changes into account due to the fact that they aren't expected to come into force until 2022. Because banks have several years to prepare, "these results are more an indication that banks should not assume that 'passing' the stress test negates any need for future capital raising."
Notepad